And suddenly I lost the mojo to blog again -_-"
I told myself to blog more often now, to update my sisa-sisa hidup in KL wtf, but apprently nothing interesting happen. And I don't wanna blog about any unhappy stuff. Let this blog be my happy place, where when I look back few years down the road, I will only have happy memories...
Oh by the way, if you've noticed, I've added tickers at the bottom right side of the blog.
Yala, counting down to my wedding day can bo?? :P
I've check out gazillion of photographers, videographers, and make-up artists for my wedding and I've concluded that I'm in the wrong field now. I should just venture into anything to do with wedding and I'll be loaded.
For actual day photographer, I've confirmed on Pin from Love Vision. He'll be the one shooting for my pre-wedding too. Check out his lama tak update punya blog
here
. As for Taiping side, Eric from the Tripod Kakis will be shooting for me. He did awesome sets for me
here
,
here
and
here
. Which means I have photographers confirmed for both sides now.
And I'm now looking for videographer. The last I checked, one of the Kuantan based videographer is charging 1.6k for 1 videographer, 2k for 2 videographer. And make-up artist! Taiping side I've confirmed on Ivy from Elegance Bridal Image Styling. Found her from FB. In fact, a few of my friends are using her so I guess she should be good.. The best thing is, she's only charging RM260. But I have no idea for Kuantan at all. Love Vision is charging 1k plus for their make-up service and that's crazy expensive! It's like 1k here, 2k there and I have no idea how much we'll be spending overall.. *sigh*
No wonder the old folks always saying,
no money don't get married
. wtf.
And I am now confused. All the while I have the perception that bridesmaids equals chimuis. And maid of honour is the head of the bridesmaids. But yesterday I learnt that bridesmaids and chimuis are two different thing. Oh lord! So damn confusing :(
I'm thinking of lilac theme for the morning ceremony in Kuantan. Pink will be too girlish. Red is too Chinese-y. I hate green. Blue is too manly. So, lilac it shall be! :D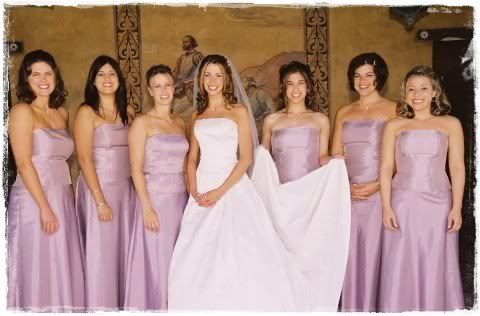 Such a sweet colour! ;)
And I can so imagine how well the dress will go with this hand bouquet..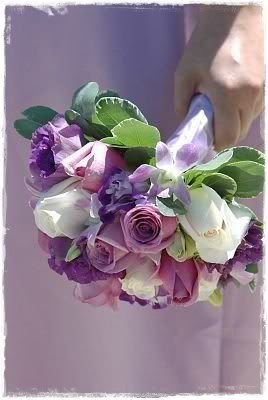 Have not confirm on the theme, but I really like this shade ;)
Makes me wanna get married A.S.A.P.
.
.
.
.
.
.
WTF just joking-lah! Cannot ar??