Photoshoot's over! ;) And I'm loving it to bits!!

It was fun. My photographer was great. The weather was amazing. My make-up artist was a real joker. Everything was excellent :D

We were really excited the first day, woke up around 830am, got ready and left home WITHOUT any make-up on, FML. Went to get some breads TO SURVIVE FOR THE REST OF THE DAY and a cup of Starbucks grande hot mocha. I just had a small piece of scone and few sips of mocha to prevent bulging tummy wtf. We reached the bridal house around 1030am and waited for about half an hour as the bridal house will only open at 11am.

And oh btw, due to some internal rebranding, partnership, new image and etc etc (the excuses goes on), Love Vision is now known as Faye's Bridal House. OMG so 'liong' can die man!! They mentioned this new branding will cater for younger generation (me??) and will have Taiwanese bridal style infused WTF WTF??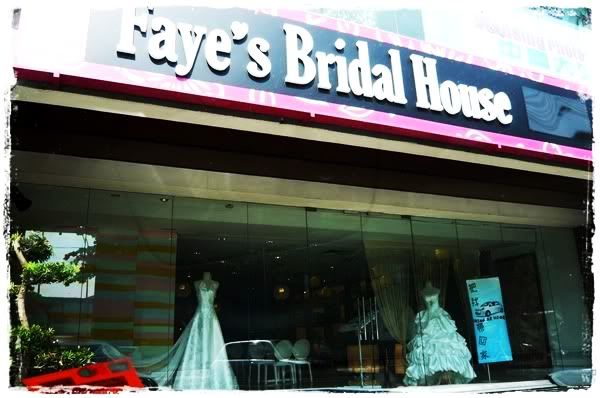 Anyway, for me, it's the photographer's skills that counts.

Started make up at 11am sharp. My make-up artist Lily was a real joker. We chatted and joked the whole session. Her make-up skill was ok, hairstyling was acceptable. Details later.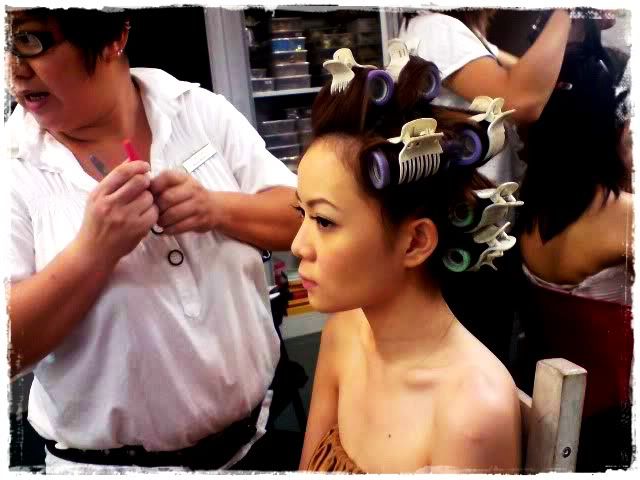 Due to the weather that wasn't really that promising, the photographer decided to have indoor shoot for the first day. I had 6 gowns to change. I'm enjoying every moment of it but I guess the boy was really bored as he was waiting the whole day for me to change and re-do my make-up and hairstyle. LOL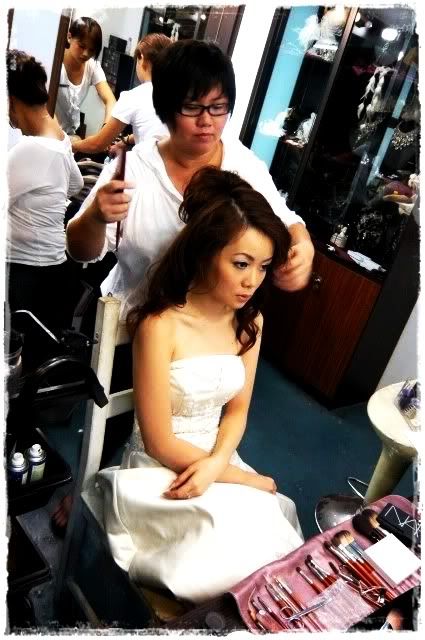 I had puffy wedding gown for my first shoot and I love my gown and super long veil to bits! But the hairstyle wasn't really what I like though. I think I looked kinda matured.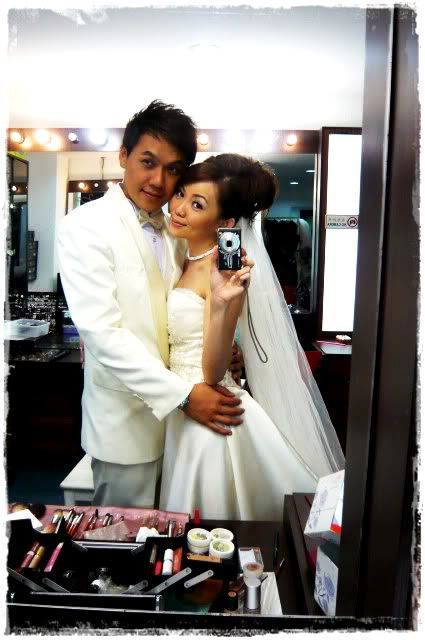 Mermaid dress next.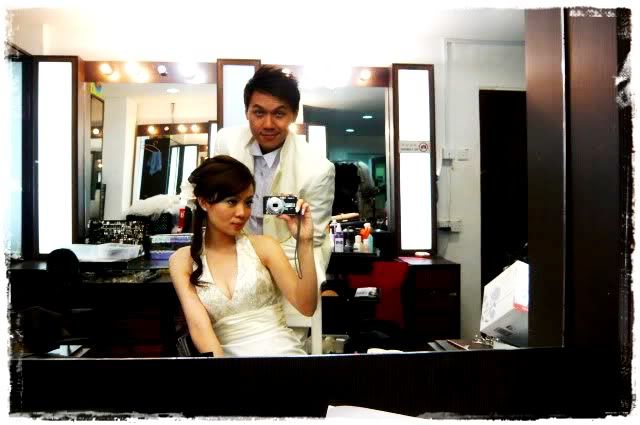 I love this gown as well. In fact I prefer to have strapless mermaid gown instead of halter but they only have this. The hairstyle was just OK as well. Alright, maybe my expectation shouldn't be too high.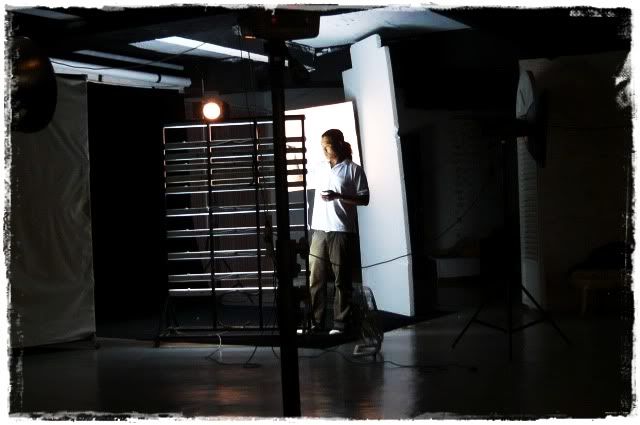 My photographer Pin was simply amazing. He was very friendly, he guided us all the way on the posing and etc and did not show any temper or put on a long face when we failed to pose and smile naturally. And I love all pictures that he took ;)

This is my favourite gown! ;)

It's backless satin gown but I forgot to take pic of the back of the gown. Love this hairstyle the most too ;) Lily managed to follow exactly the hairstyle that I showed her! And the boy looked good too ;)

Among all my gowns and hairstyles, I like this the least.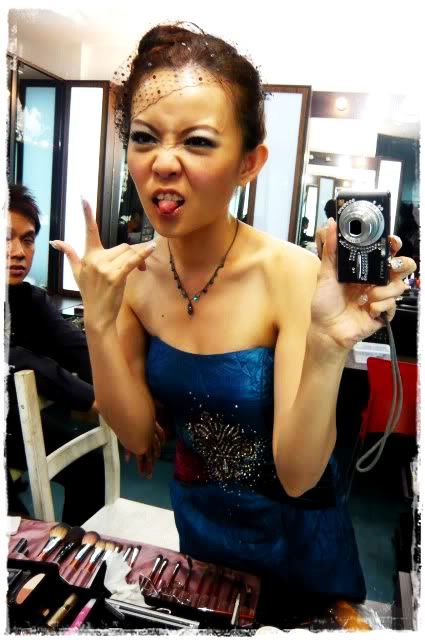 I actually topped up RM400 for this designer gown which I only get to wear for half an hour for this photoshoot. And I'm regretting it. I should just save the money to top up pictures next time. *sigh* And I don't like this hairstyle at all. I really wanted a gorgeous birdcage and fascinators and this is what I got instead.

Don't like :(

Had only 1 traditional costume instead of 2 as signed earlier. I should have chosen kwa instead of qipao since I only get to wear kwa once in a lifetime but I can wear qipao every CNY what :( Now I missed the chance and will never have the opportunity to wear kwa anymore, well, maybe until the day my daughter got married and I can wear black kwa :( The qipao was free size so it was kinda loose.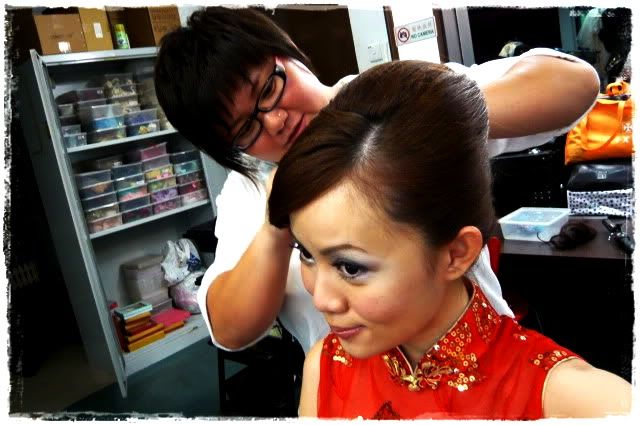 Kinda like this hairstyle but I think I look like a young 'tai kam cheh' LOL!

The last gown for indoor shoot was also another gown that I upgraded for RM600. Gonna wear this for my wedding dinner in Kuantan. Forgot to take full length shoot of it but it's full laced and extremely figure hugging. The hairstyle was ok too, Lily did not follow exactly what I showed her, but it was still acceptable cos I trusted my photographer to deliver the best ;)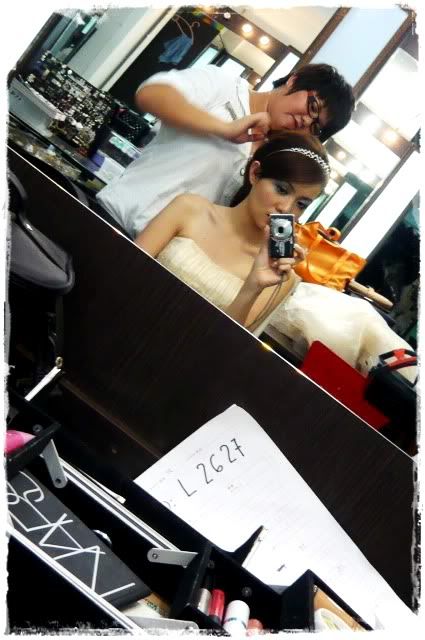 The first day ended around 8pm. I only had my little scone and few sips of mocha for the whole day. We went for dinner right after and ate like a glutton. Many mentioned the photo session was in fact very tiring blabla... (all negative feedbacks) but I think it was really fun. Wasn't really that tiring though.But the boy was tired and I don't really understand why, as I am the one who needs to do all the changing and did the acrobat movement. -__-"

We were more relaxed for the second day. Manage to go for simple breakfast as we have extra time and since my gowns for outdoor shoot were not figure hugging, I don't have to worry about visible tummy.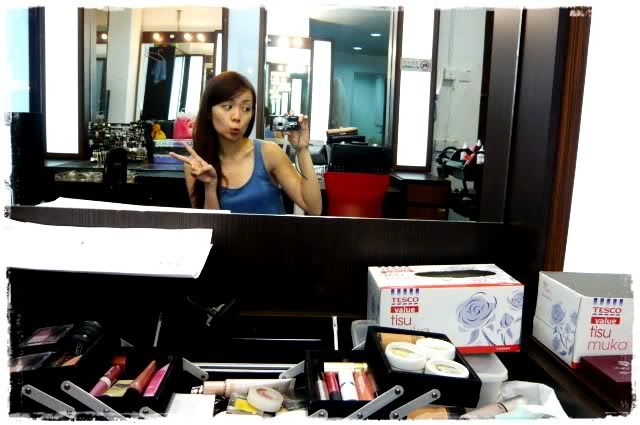 Reached Faye's exactly at 11am. Did my make-up and hairdo, changed to my A-line gown and off we went to PD around 12pm.
Thank God there was no rain! :D Pretty good sunlight, acceptable heat and fantastic group of people ;) The outdoor shoot was more relaxed as compared to indoor shoot. Not much of act cool kinda posing, more of happy shot, kissing, running, hugging, jumping, flying, piggy back ride, etc..

We went into the woods to an isolated building. Took few shots and guess what, as we were trying to get into the building and the photographer's assistant walked in front of us to guide us in and all of a sudden, both his legs caught deep in the mud! Imagine if it was both me and the boy who walked first, I can't image what will happen. Both dressed in white dipped into the mud OMG. Pin had to help him to get up, his shoes were stuck deep inside the mud, he had to use his hand to pull them up and his hands got stuck in the mud as well WTF. We left the place shortly and went to the nearest petrol station to clean up -_-"

Next, we went to nearby stall to change and redo my hair and makeup. I gotta change in the public toilet kns.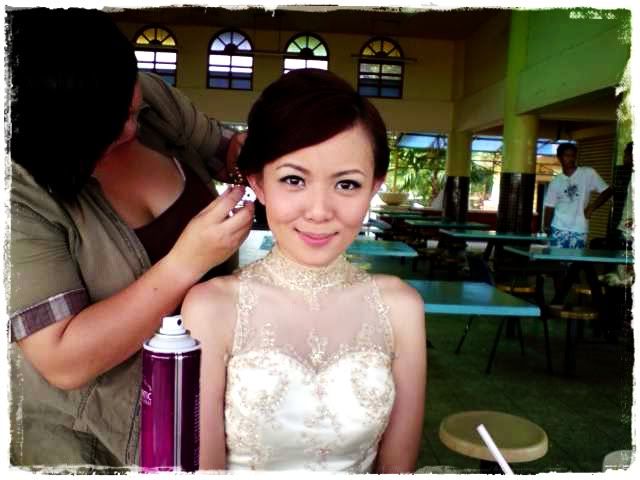 I love this last gown as well ;) Semi transparent halter with full lace detailing. I know I looked a lil matured here but I really loved it. ;)

Make-up artist Lily and I ;)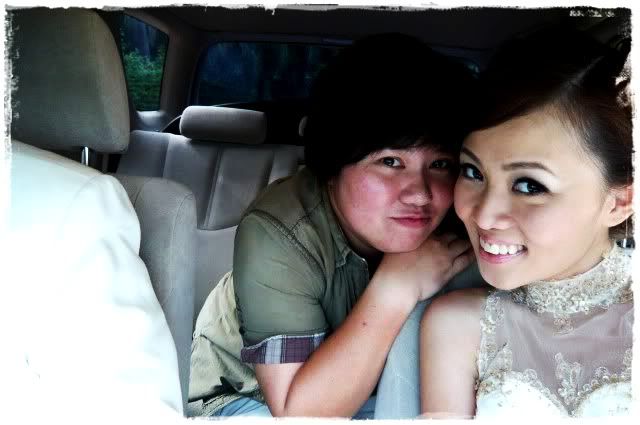 Photoshoot ended around 6pm. It was fun. I know I've been repeating it many times but I really enjoy both the sessions. ;)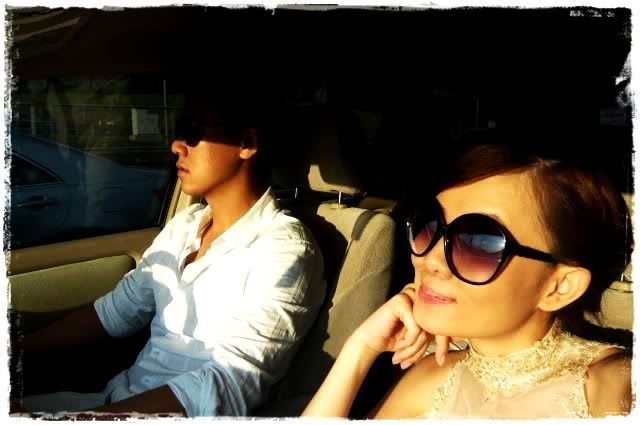 Will be going for photo selection this Sunday, wish me luck! I need to select 40 poses for big album and 20 poses for small album, but overall I think we have around 400 pictures. You tell me how la!!! I managed to peek at another couple's receipt and saw they topped up 26 poses for small album at additional RM2000...

T_____T