Im currently back in KL -_-" Was in Kuantan over the weekends and will be back Taiping on Wednesday. My friend just commented the other day, asking what kind of gadget she'll need to locate me -____-"
Anyway, we've confirmed on having our wedding dinner in Boulevard Hotel!! :D BOOOO!!! to those that didn't believe :P Why Boulevard, simple, cos my mighty ex-collegemate cum ex-Nikkolite Cecilia is working there and it'll be so much easier for me to deal with her and can be assured everything will run smoothly as planned.
And now, I have to watch my weight for my pre-wedding photoshoot end of this month. Before you conclude that I'm being exxagerating and start commenting that I should put on more weight etc, let me tell you that almost ALL my wedding gowns are figure hugging and I can't afford to add even half an inch ok!! T__T FML Why was I being so confident that I'll stay in shape for a year?? And now I have to torture myself already T__T
I'm deciding whether to get real manicure or to buy acrylic nails from the bridal house. Saw a nice set from the bridal house the other day and it cost RM180. Sounds tad pricey but after some calculation, it's worth investing as I can use it again for both my dinners and wedding day as well. Compare to those real manicure, probably I'll have to do it a few times and it'll cost much more, as I'm planning to get very blingkified ones. But will the acrylic ones look fake?? I've never use it before.. Suggestion ppl?
Black sailor outfit as mentioned in earlier post: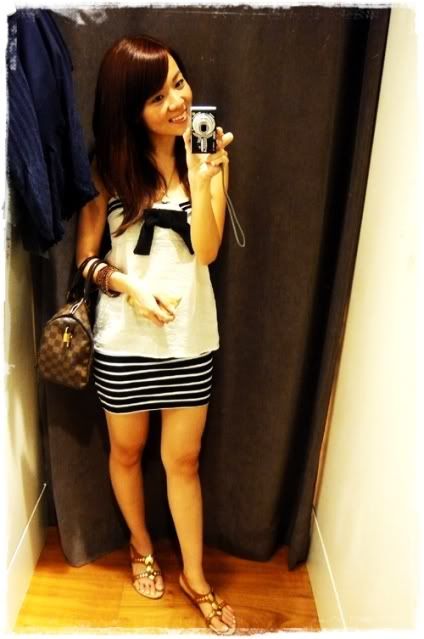 Sailor inspired top I got from Bangsar and F21 striped panel skirt. Love the top to the max ;) In case you're zooming your eyes trying to figure out what accessories I'm wearing, I'm actually wearing the same yatch necklace, and same beaded bracelets as previous post.
It's 1am now but I've had too much sleep today. What shall I do next?
*sigh* Life as an unemployed...