When I updated my status in FB the other day, many were surprised and even trusted me that I coloured my hair
PINK
!
-___________-"
Do I look that daring to you?
Anyway, I just wanted to add a pop to colour to my dull dark brown hair..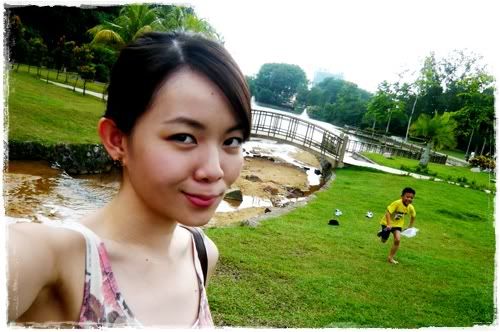 (I know I looked weird in this pic but trust me I don't look like that all the time!)
I don't wanna have boring dark brown hair for my photoshoot!
Yunny highly recommended the salon she went to, Japanese stylist, she said. So last two days I gave it a try and went to
Eiji Salon
near Mid Valley, for a transformation..
I told my stylist, Yoshi san, that I wanted lighter coloured hair. He later brought 2 Japanese magazines with lots of Vivi looking kawaii Jappy girls and started flipping and went...
"ano.. ano
..~"
"Maybe.. pink brown!"

"PINK??!!!!!"
I was shocked.
"No!! Not this pink.."
(pointing to a pink chair in the magazine)
"Brown, but with a little pink tone.. suits you!"
(wipes sweat)
"OK. I trust you!"

I forced a smile, still confused with the term brown with PINK tone. But I trusted him. Cos he's JAPANESE WTF.
Pink?
Pink?
Pink?
Pink??
I sent an MMS to the boy telling him I'm gonna dye my hair PINK and guess what, he replied
"Green la.. better"
:(
In the end, I was very satisfied with the PINK hair I've got ;)
I was expecting more pink in fact. Can you believe this is the lightest shade I've had after all these years of non-virgin hair??
Full length shot, cos it's been a while since I last did this..
Red sailor dress I got from Zara the day before. Damn love it ;) And I dressed up as black sailor today.. picture up next post ;)
With the rate my hair is growing, I seriously can't imagine how long it'll be when the big day comes..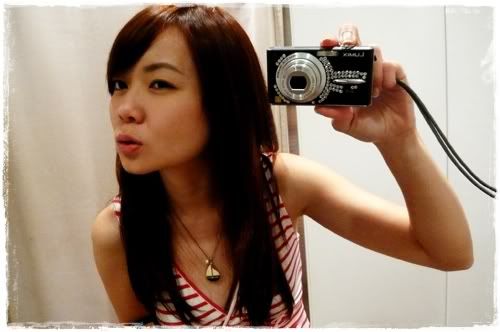 Clearer picture under sunlight.
What say you?
Pink? or no?