I was thinking for a moment, which friend of mine is getting married this coming Saturday when I saw this event popping up on my FB page..
And then I realised... shucks, it's MY wedding. -____-"

And when I wanted to blog about this, I clicked on my URL and this popped up..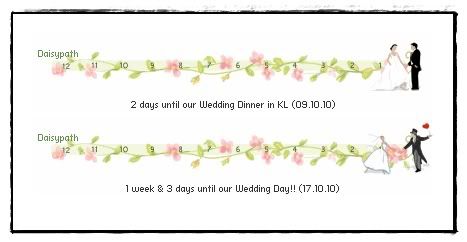 Hello??? 2 days??????

I'm seriously getting married! o_O

The dinner cum ceremony in Taiping was OK, I didn't really feel that kinda excitement, yet. Probably I wasn't properly dressed up as a bride. Few friends called and asked how am I feeling. Truth to be told, I don't feel anything, yet. No excitement or fear of being a bride and somebody's wife, yet. Probably it's not the actual day. I'm just feeling.. Lost? Nervous? Panic attack??? I'm not sure which is the best word to describe... I'm just feeling unprepared for my big day. Not as a person, but the event itself. I'm not sure if I missed out anything. I'm not sure if things will run smoothly and as expected. I'm not sure how many no show's and how many last minutes arrival. I'm not sure if the seating arrangement, the flower arrangement, the bands, etc will be as expected...

Just took my red wedding gown this afternoon and I love it so muchhhhh!!!! Andoh btw, I've rented another pink gown to replace the blue gown, to be worn in Kuantan. Impulse wtf. I thought I've make up my mind not to change my gown??? Why am I renting another gown???

Will be checking in Boulevard tomorrow (one day earlier) to calm myself down... Namo amitabha... -_-"