The moment finally arrived. Went for gown fitting last Friday with the boy at LV.
Upon reaching, we were greeted by our new SA, Meiz. The previous SA, E-yan, been promoted to another branch WTF :( The current SA was OK, I can't judge her that soon, time will tell.
She led us upstairs where they display all their VIP, SVIP and designer gowns. I can have 3 wedding gowns, 3 dinner gowns and 2 traditional costumes for photoshoot. And for actual day, I can have 1 wedding gown and 2 dinner gowns, with either one from designer range. In fact, the gowns for actual day can be different from photoshoot and the previous SA told me they'll have new arrival coming every few months. So I can actually choose my actual day gowns when the day is nearer. But anyhow, Meiz advised me to confirm on the actual day gowns on that day as well, in case I can't get anything I like in future (?!!). Yeah, so I confirmed on the actual day gowns as well, I have the same worries anyway.
She actually helped me to pick gowns that suits me, depending on the cut, colours and availability. She said I'll look better with something simple, that's what I thought too. But I wanted to try something different too, so she picked a few 'extraordinary' gowns for me to try on.
Overall I think I tried like 20 gowns, plus minus. The boy was sitting at the sofa the whole time, either nodding or giving me that
very-fail-can-die-look
. I was sweating like hell, changing from one gown to another, and they were all blardy hell heavy and pocky.
I didn't like most of the gowns she picked, but after trying on, I'm shy to admit but I think I looked good in most of them WTF :P They didn't have much choices for dinner gowns though, probably I couldn't accept those 'extraordinary' colours like bright pink, red, green and orange.
In the end I upgraded 2 gowns from designer range, and topped up another RM1000. Damn easy to cheat women's money :(
I had pictures of the gowns, not me wearing them though.. just the gowns itself. But I'm gonna save the best for last, heheh.. not gonna show you guys the pictures! But here's some of my pick:
1) Fitted full French lace sheath evening gown with pleated bodice and detachable train. It's beige/ golden in colour. Love this dress loads and I'm gonna wear it for my dinner! ;) It's one of the designer gowns that I upgraded. Looked something like this..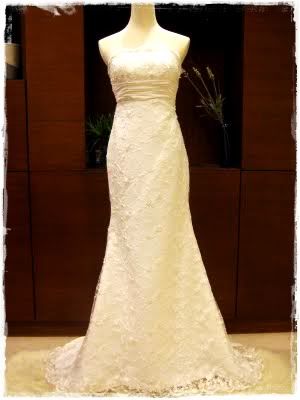 2) Mermaid gown with embroidered halter neck. Gonna wear it for my outdoor shoot! It's something I was looking for too, just that I prefer sweetheart neckline instead of halter.. It looked something like this..
3) Satin gown with beaded embroidery and long puffy chapel train, cos I wanted something BIG. Something like this..
4) Satin fitted gown with draped bare back and T-bar diamantte attached. MY ULTIMATE FAVOURITE!! :D
OK, no more pics cos I'm lazy to google already..
5) Fitted mermaid pure white gown with sweetheart neckline, rhinestone centrepiece and lace beaded skirt hem. From the designer range. Love this too and I'm gonna wear for my wedding day (morning)!!
6) Midnight blue organza strapless gown with puffed bottom and 'very gorgeous' centrepiece.. cos I dunno how to describe the centrepiece. One of the evening gown that I upgraded from the designer range too. Gonna wear only for my photoshoot.
7) Another fitted midnight blue evening gown with high mandarin collar and low neckline, with rhinestones at the collar. This was OK, but the boy liked it loads, so I'm gonna wear it during my wedding dinner as well. Might change this if they have something better next time.
8) A-line gown with scalloped ruffled neckline. Gonna wear for my outdoor shoot too. ;)
Eh? Now I realised I missed out a few more dresses. I didn't snap pictures of those! Anyway, gonna head back to the bridal house tomorrow cos I have some confusions and dissapointments that need to sort out. Was in puzzled mode the other day...*sigh* Spent only like 2 hours, I was estimating at least 4 hours anyway!
I think I need to add more colours, cos all I'm having are either white or midnight blue... I'm boring like that.. :\