I know I said I'll blog everyday, but my internet connection now is damn awesome. I've been researching, facebooking and pet societing so much that I almost forgot about my blog! And I've been busy with my growing up slideshow too.
I didn't wanna spend much on this, most vendors charging around RM300-400. So I went searching for suitable software, many thanks to Sukie. Through her I got to know existence of wedding slideshow software. Unfortunately not many place that sells pirated software nowadays. Finally found in a small computer shop in Summit USJ. Told ya, I can get everything in my neighbourhood, but I always opt for somewhere farrrr away.. -_-"
For less than RM10, I got my
Gold Edition Wedding Album Maker
wtf. Spent some time experimenting though. But overall, I'm quite satisfied with the software and with my work of course ;) Will share the slideshow here in my blog after the wedding... we'll see.
Anyway, a parcel reached my doorstep few days back!!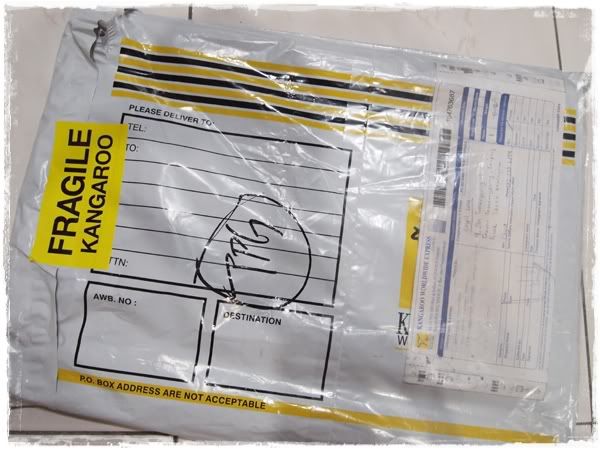 FRAGILE Kangaroo... -______-"
Guess what's inside?? :D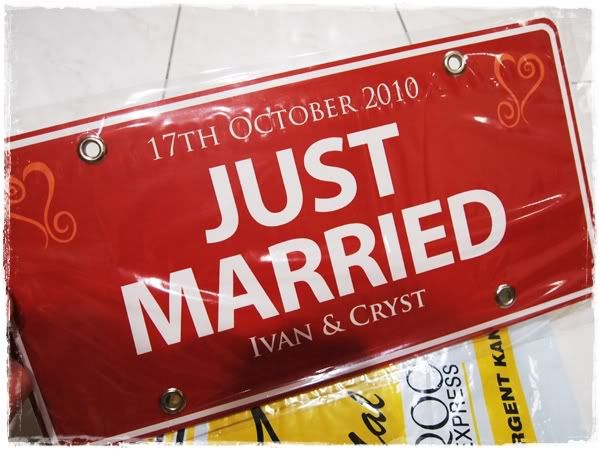 Ever so famous wedding carplate!!!!
Which I regretted.
I ordered online through
One Tree
for RM 100 and when it arrived my mum asked how much I paid for it. I did not tell her but she said it surely exceed RM50 and advertising company in Taiping can do it for much lower price fml.
Gawd... why didn't I think of that??
By the way, my mum just done with my nephews' bow ties and cummerbund. Four of my nephews will be wearing tux during my dinner in Kuantan! The existing suits that my mum bought from a store in Taiping comes with chilli red bow tie and cummerbund is not included. So again, my mum decided to take the matter into her own hands... lol!!
Also, I've sewn bells to my flowergirl basket!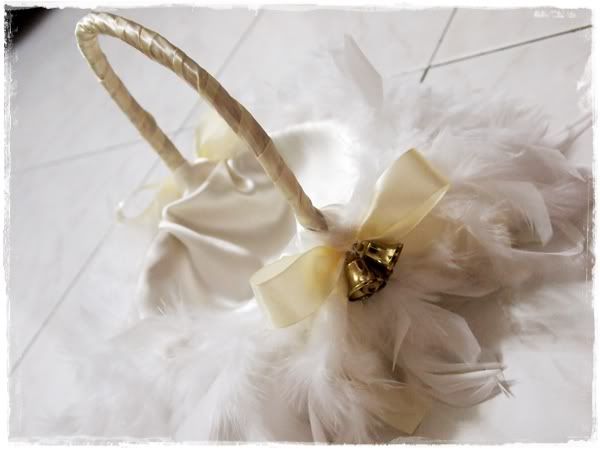 Wanted bigger bells but can't seem to find in Taiping. I guess this will do... Anyway, this fury chicken/ cat basket gonna look so good with the guestbook set that I'm using for KL dinner!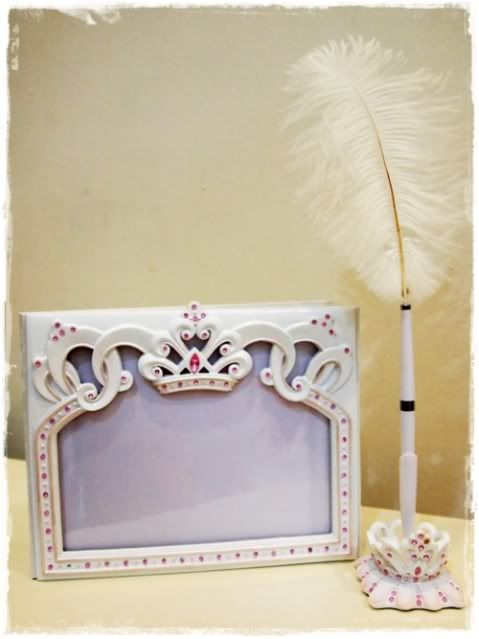 Got this set from Lovely Lace when I was in KL for halfprice!! Guestbook for RM25 after discount, pen with holder for RM15 after discount!! Definately a steal!! ;) Can put my wedding pic in the cover somemore!! Those pink diamantes will look better if they're in white instead..
Ever since I'm back here in Taiping, I've created a working corner in the living room...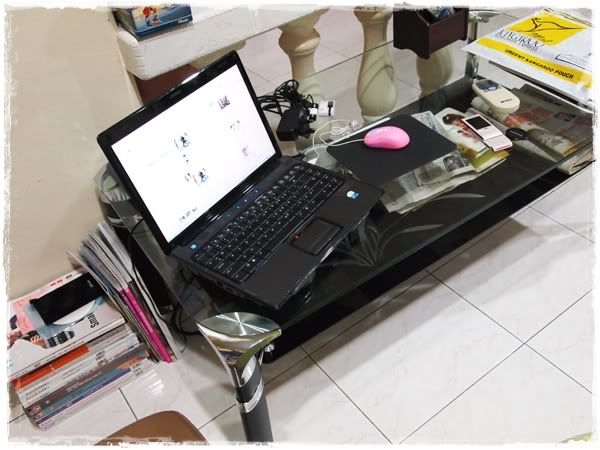 Each time my parents passes by, the only thing they'll say is... "
STILL ONLINING!!!"
*sigh* What to do.. seemed like I've done a lot, but I'm a bridezilla, remember? I emphasized on perfection. I hope I don't miss out anything... if anything goes wrong... *sigh*