Another parcel arrived today! ;)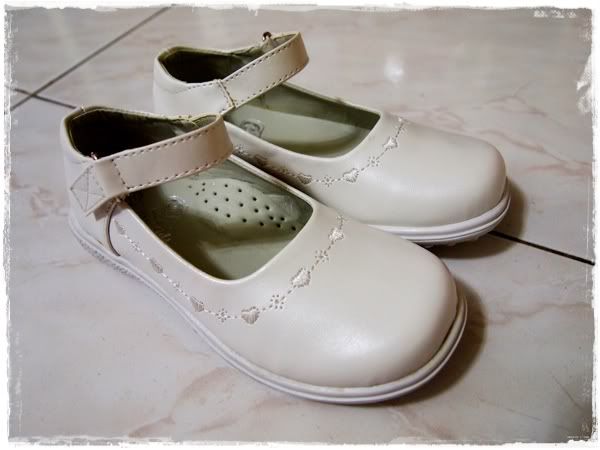 Ordered flower girl shoes online for my niece cos we can't seemed to find a suitable one. Saw a nice one in Lovely Lace, brought her to try but sadly, did not fit her well.. Finally found a seller selling this online in FB few days back, I messaged her immediately to enquire, did the payment that night itself, and she sent it out within the next 2 days.
I'm quite satisfied with the product. Quality wise, it's considered good for the price I paid. The sole looks kinda comfortable too. Definitely not as pretty as the one I saw in Lovely Lace earlier, but with only RM 35.90 with postage, I shouldn't expect too much. Hope it fits her well! Can't wait to show her when I'm back KL next week ;)
Also, my mum finally completed the flower girl dress!!
After much alteration (gawd she gained so much weight within 2 weeks!!!), after spending so much time and effort sewing the flower petals one by one, after adding big bow at the back and the thin chiffon layer.. it's finally completed!!! And I love it to the max! In fact, it reminded me of the dress my mum made for me when I joined dancing competition during my childhood time. My mum is still keeping the dress nicely in the closet, shall post up picture of it someday ;)
I guess I've settled most of the things.
My room in Kuantan is almost done as well, put on carpet and wallpaper this morning, furniture in by next week. Will be collecting my invitation card when I'm back KL next week, gotta spend some time distributing.. Then gotta go for my first fitting for the gown I tailored. Gotta pick up my albums. Gotta go for trial make up. Gotta touch up my hair colour. Gotta go Boulevard again to finalize everything and discuss on the flower arrangement. Gotta start packing up my stuff in KL - which to throw, to donate, to bring to Kuantan, to bring back Taiping, to leave in KL etc... Gotta discuss on floral arrangement with florist in Kuantan side. Gotta finalize everything with Vistana Kuantan as well.
Shit, I have so much to do!!!!!!!! I need more time, my wedding ticker above is freaking me out!