Hi I'm back and extremely exhausted! Been so busy running around doing final confirmation, final arrangement and screwed up some stuff as well.
Remember the wedding favors I mentioned
earlier
on? Long story short, the supplier went missing in action. The website expired, FB no longer active and hp number been terminated. FML big time. In total we had banked in about RM800 plus for favors both in KL and Kuantan. I'll be lodging a police report once I've settle down my personal stuff. In fact, I've been in touch with few more clients that did not receive their goods as well.
Out of desperation, the boy and I went over to
House of Favors
in Cheras yesterday and bought this.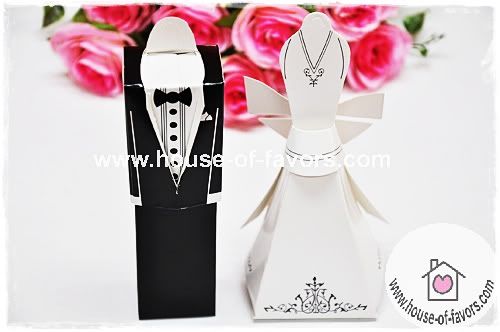 Bought 150 pieces for KL's dinner, priced at RM1.50 per pair. Did not get any favors for Kuantan dinner as we don't have much time left to do the folding as it comes in a flat sheet. Since the hotel will be providing cakes, the boy decided not to waste too much time and effort in this. But I have no choice as the hotel in KL is not providing any favors. I need it and it's a must.

Guo Dai Lai was on the 18th Sept.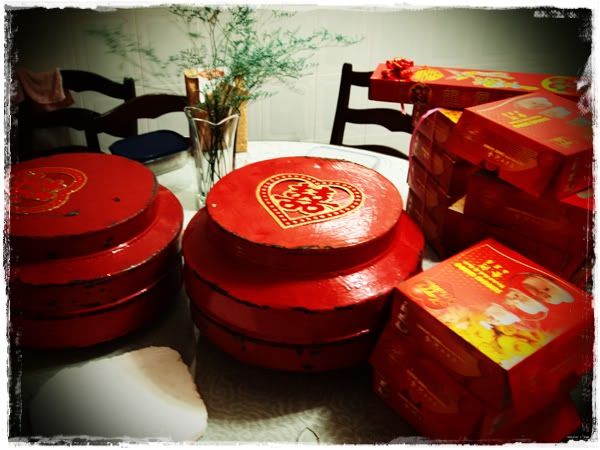 The boy came over with his youngest uncle and his friend. It was just a day trip and they left in quite a hurry.
Went for trial make up when I was back in KL last week. The previous makeup artist that a bestie recommended earlier didn't really suit my taste so I've decided to hunt for another one. I've confirmed on
Mabel
from the Brilmac Events for KL's dinner and the boy's cousin sister, See Hui who's also a makeup artist will be doing my makeup in Kuantan. Forgot to snap pics on the makeup that Mabel did for me though, but here's the one See Hui did!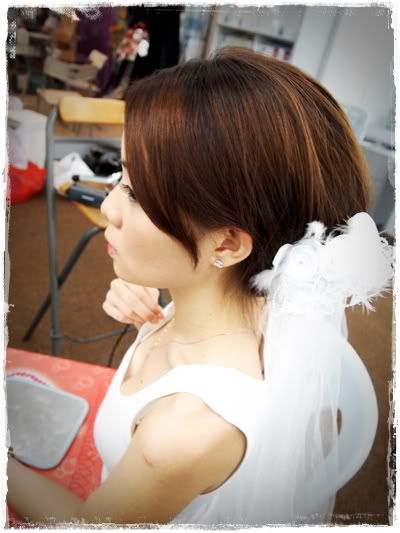 Morning session..
Night session.

Still deciding what kinda hair accessories to use for night time. And I'm indecisive if I should change my gown during the dinner since I have 2 gowns with me. The gown that I'll be wearing during the march in will be in pale gold, one of the gown that I wore for photoshoot. I have another gown in dark blue that I don't really fancy, but the boy likes it and my mum said it's nice too...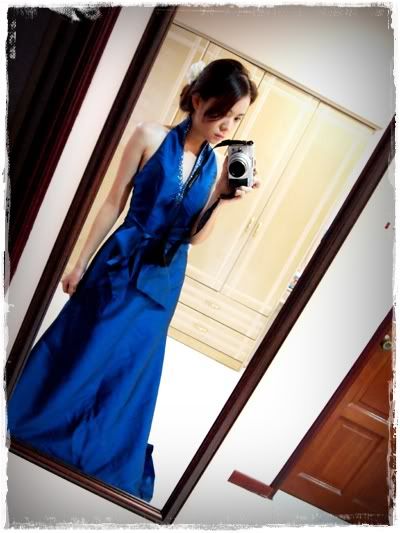 Ignore my face, I did not have any makeup on and I looked horrible after 4 hours drive from KL.

Should I change? or no? :(

Personally I don't like the idea of doing fashion show during wedding dinner. I notice some brides changed like 3 to 4 times and most of their time was spent outside the function room, changing and changing. As for me, I'd prefer to spend more time with my guests. If I were to change to this blue dress, I guess my makeup and hairstyle will remain the same.

Anyway, I'm extremely in love with my wedding gown!!!!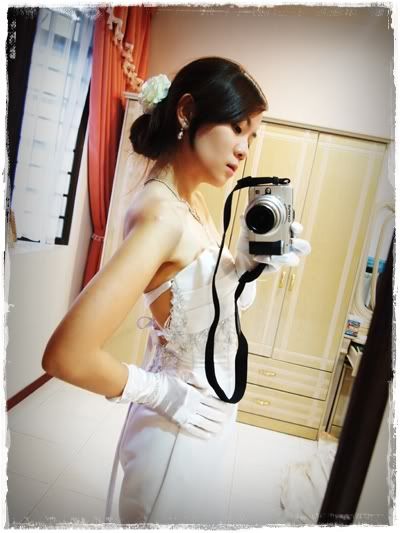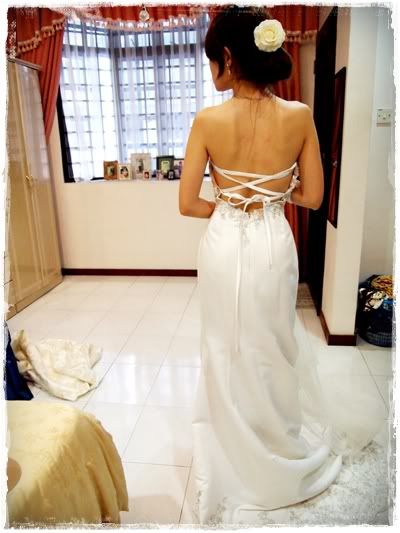 I was parading the whole day in front of my mum. She helped to alter my gowns a little, my mum is awesome! ;) The bridal house provided me with 2 veils, a long and a short one. I prefer the long veil but it looks old and it stinks!! See Hui will be helping me to tailor-made a new one, hope it turns out nice.

Am still waiting for the red gown that I'll be wearing during KL's dinner. The tailor promised me to get it done by last week but when I called up yesterday, she told me it's not done yet and I can only collect it by tomorrow. Anyway, I'm back in Tpg now so guess I can only collect it next week. It's gonna be kinda rush if it doesn't fit well though...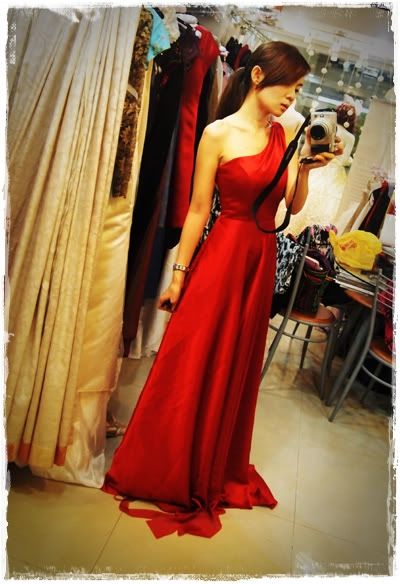 This was taken during my first fitting. Will be adding some crystals and beads on the top part, sash at the waist, altering the length and adding a long sash from my shoulder down.

Up next!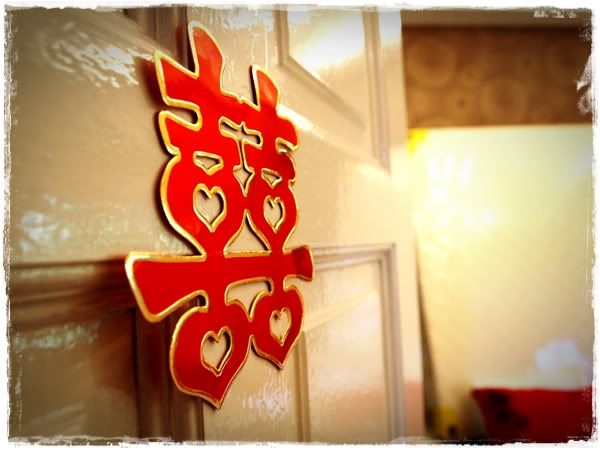 Tour around my new room in Kuantan! :)